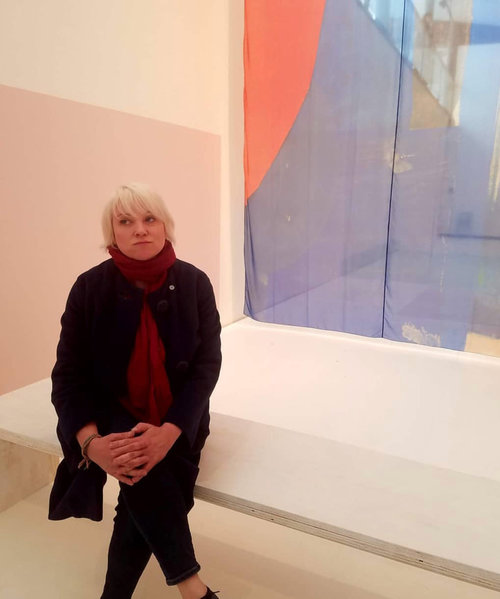 Anna Kunz is a Chicago-based artist, exhibiting her interdisciplinary works in the US and abroad. Kunz received her BFA from The School of the Art Institute of Chicago and her MFA from Northwestern University. Kunz describes her works on paper, paintings, sculptures, and installations as "seeping out of the rectangle", and makes work often for other places and audiences outside of traditional gallery spaces. In addition to painting, the artist uses painted and dyed fabrics that function like nets to capture and manipulate light and color. Kunz has earned honors and awards from the Union League Civic and Arts Organization, the School of the Art Institute of Chicago, Northwestern University, and the Department of Cultural Affairs in Chicago, The Marie Walsh Sharp Foundation in NYC. Kunz has also served as an artistic collaborator for many organizations within the city and around the U.S.
CNL Projects: What is one thing you feel you have learned or experienced as an artist that you feel you can share with your peers and emerging artists in the field?
Anna Kunz: It's important to prioritize your studio time and to invite people to your studio regularly.
CNL: What's something that you're seeking from others in the field to support your practice?
AK: To be invited to participate in more group shows, to be contextualized with other work and other conversations.
CNL: What's a piece of advice you would share with other artists or cultural producers in your field?
AK: Make all the decisions you can in your life.